The Avengers (2012) Movie
The Avengers movie is a must-watch movie for the year 2012.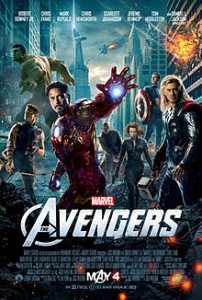 The Movie stars include:
Robert Downey Jr. –       …. Tony Stark / Iron Man
Chris Evans          …. Steve Rogers / Captain America
Mark Ruffalo      …. Bruce Banner / The Hulk
Chris Hemsworth     …. Thor
Scarlett Johansson      …. Natasha Romanoff / Black Widow
Jeremy Renner       ….Clint Barton / Hawkeye
Tom Hiddleston   ….Loki
Clark Gregg      ….Agent Phil Coulson
Cobie Smulders      ….Agent Maria Hill
Stellan Skarsgård      ….Selvig
Samuel L. Jackson   ….Nick Fury
Gwyneth Paltrow     ….Pepper Potts
Paul Bettany ….Jarvis (voice)
Alexis Denisof      ….The Other
Tina Benko     ….NASA Scientist
The Plot:
When Nick Fury (Samuel L Jackson) the director or the leader of the Agency  S.H.I.E.L.D recruites the superheroes to stop Loki (Tom Hiddleston), Thors Brother to stop destroying the Earth.
This Movie's budget is 220 million US dollars and the box office amount is still increasing and counting. So guys you should watch this movie. it's really a great action movie ever.
Pag comment kau dito sa Baba
comments