Singer-Actress Mandy Moore and her husband Ryan Adams is going to work Together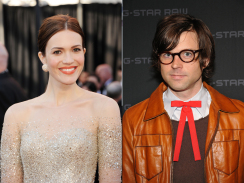 The singer-actress Mandy Moore is going to work with her husband Ryan Adams – singer-songwriter for her Next Album.
Mandy Moore and Ryan Adams was wed on 2009 and the couple is going to make a follow – up from 2009 album.  Mandy Moore Said that her husband has a studio so she probably going to make a record in there. The couple also worked together to write songs for a bit longer and now she is hoping to have her album released at the end of this year 2012.
In 2010, Mandy Moore voiced an animated character "Rapunzel" in the movie "Tangled" and have recorded the song "I see the Light".
"There's a lot to say and a lot that's happened to me in the last three or so years since the last record's come out," Moore explained. "So I have been writing a lot and it's definitely going to be an intense, emotional record. I'm excited about it. I'm excited to get into the studio and start recording." – cbsnews.com
Pag comment kau dito sa Baba
comments