NO RAW SHOULD PAINTED STRANGE COLORS CLOSENESS OF ENCHONG DEE AND MAJA SALVADOR …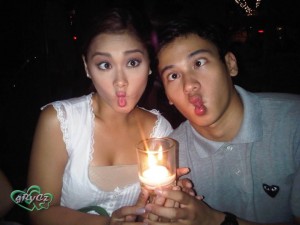 Enchong team up with Erich Gonzales Maria la Del Barrio series, is now also trying to add Enchong team up with Maja in the soap opera Ina, Kapatid, Anak. Many simply observe the closeness of Enchong and Maja. Some have said that it seems even more closely with partner actor now, than with Erich that he shared for a longer period.
At the presscon of Ina, Kapatid, Anak last Wednesday, October 03 at 9501 restaurant in ABS-CBN building, immediately visible actor explains the extraordinary closeness they had. "I think maybe because we really even close Maja, "says Enchong to the opposite press. "It was too close for us Erich, but unlike of us with Maja". "It was as; I treat Maja as a sister, sometimes which seems KATROPA".
Deep raw foundation of their friendship Enchong added: "We work for drama and we both enjoyed it. Sometimes I think why the time comes for something? Now they come to life, perfect timing". Timing means the team up for both Enhong and Maja.
"We are here at the time and the opportunity and we will not let it pass by. Enchong shares also what she likes about Maja – for being such a caring person. "He cared for me really, I said that, it really seems ready to life, because I did not know where she captures those she care". Says Enchong concerning to Maja. "But now really, we are happy because I'm excited to go to our taping, I know that we are doing those jobs and that it would be easy for everyone. Enchong added.
No raw should painted strange colors closeness Enchong and Maja as long as they are closed before they made the Ina, kapatid, Anak. Enchong also said: Maja explore more sa ganung team Up. And according for both celebrities they just all that they give their work, but they do not send someone else pressure and just giving the best they can. It's up to the person if they accept.
Just a few months ago when paths diverge Maja with her ex-boyfriend and it was Matteo Guidicelli. As of Enchong still waiting to 18 young actress Julia Montes for his court.
Sink the Ina, kaptid, Anak coming October 08 at Primetime bida of ABS-CBN.
Pag comment kau dito sa Baba
comments