Kathniel talk about their new movie…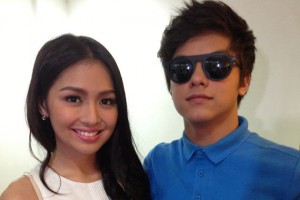 In the story conference of Daniel Padilla and Kathryn Bernardo for the movie "She is dating a Gangster right from the best-selling book, the two shared some scenes that their fans should keep an eye.
I was excited because it was great love story and it is not just a rom-com (romantic comedy) but it is serious love story. And our characters here Athena – a high school girl that would meet Kenji – just like in the book.
The story she is Dating a Gangster began to shine Online and multiply its followers to publish them. Daniel and Kath questioned if they feel pressure to give justice to the character that audiences loved. "Yes of course not necessarily for us losing that. But this movie is as beautiful and excited because we are more like DJ's who were here to grow. We never really took the story but we added more to improve."
This was also the re-integrating with Cathy Garcia Molina the director of Got to believe. "She is the best, she is the greatest" says Daniel. And we all know that if that was come from director Cathy it was been care from looks to acting at all" He added.
Direk Cathy noted that she is also excited to meet the two and work together with her favorite Daniel and Kathryn.
The love team kathniel were the one who sang the themesong "PINAsmile" for the latest ABS-CBN Summer Station ID.
The Kathniel also sang the theme song theme song that "PINAsmile" for the latest ABS-CBN Summer Station ID.
For Kathryn, the experience to sing the theme summer station ID, "Actually it was fun and I feel very happy even if it is relatively recorded for a few hours but we really enjoyed of the outcome. It was lovely".
Pag comment kau dito sa Baba
comments