Bobot Mortiz breaks his silence about the Xian Lim controversy…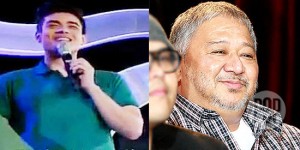 Director Bobot Mortiz remarked that it is not entirely Xian's fault as the show failed to brief the actor about the guest appearance of the kalokalike of Kim Chui, Charmae Viking during a live episode of Banana Nite.
"The truth is we also have faults about what happen and I am the one who has the ideas of having good time with Xian, actually he doesn't know that Kim kalokalike will appear while he si singing"  direk Bobot said during the Grand Comedy presscon at ABS-CBN's Dolphy Theater.
He admitted that they were not able to advise the impersonator on what to do during the live show, and that is why Xian was just like wondering why this girl appear on stage, "Nakatayo lang siya don, so kung ako man 'yun di ba kung ganon, 'Anong ginagawa nito? Anong gagawin ko?' Siguro nagulat din si Xian  and yes, we admit that we have also faults of what happened." He relayed.
The director urged the public to stop criticizing Xian since the actor already apologized. "Xian already apologized, he is just a person who commits mistakes like us, and he asked the number of Kim Kalookalike. Im sure he calls her and says sorry on how he treated her on stage and also he posted on his twitter. So that's it, he said sorry already. ".
Direk Bobot also assures that Xian would still have or back on Banana Nite.
Pag comment kau dito sa Baba
comments