Anne Curtis nominated on Nickelodeon Kids Choice Awards…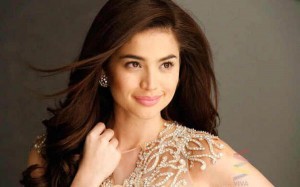 Despite having a combined total of 7.5 million followers on her Instagram and twitter accounts, social media sweetheart Anne Curtis still doesn't consider herself as a shoo-in winner for the Favorite Asian Act in this year's Nickelodeon Kid's Choice Awards (KCA).
"Yes I'm inviting everyone to please vote from me as I represent the Philippines in Nickelodeon Kids Choice Awards for 2014. We're up against Malaysia, China and Indonesia. So please visit the Nickelodeon Kids Choice Awards website and click on Anne Curtis Philippines," excitedly blurted the It's Showtime host during an interview at the recently-concluded Century Tuna Superbods Challenge press conference.
According to the Dyesebel star, being alone is already a huge privilege. "So you know this is a another dream come true to be recognized by Nickelodeon. The mere fact that I'm nominated I'm so grateful and happy and thrilled as Favorite Asian Act. All the more I was excited to release my new album," she stated.
The 29 year old star takes pride in the fact that she's put alongside past nominees like Charice and Sarah Geronimo who are both highly acclaimed singers. "Well they said Asian Act of course it's not Asian singer," she corrected with a laugh.
Meanwhile,s peaking of competition. Anne, who is set to reprise the role of Mars Ravelo's famous comics Dyesebel on primrtime soon, said that she doesn't mind that a rival network also came up with a mermaid-themed soap to match hers. "I think that's normal. There will always be competition so I guess its okay." Anne replied.
A part from Dyesebel, Anne is also set to release her second album soon as well as stage her second concert titled Forbidden Concert Round 2: Annekapal on May 16 at the Araneta Coliseum. "another reason why I have to get toned  for the reason na walang nagji-jiggle while I sing," she said.
Pag comment kau dito sa Baba
comments