AARON VILLAFLOR HAD FUN OF BEING KONTRABIDA…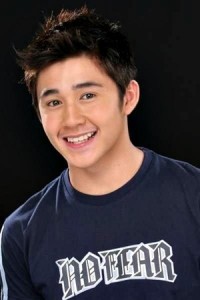 Juan dela Cruz is topping primetime ratings and Arron Villaflor, one of the main leads of teleserye, attributes the success of the show to the superb storytelling and directing. "I am so happy of course as part of Juan dela cruz family that is a very big thing when we know that we are no. 1 in primetime bida. And that's because of our writing and directors in which they are so good and very creative in making this project in which they are so much exerted  effort and time just to make it beautiful. Arron remarked during an interview backstage during Juan Fun Day last March 19.
The actor shared that he is truly enjoying his first kontrabida role and is working hard on improving his character. "Overwhelming for me of course it because I am a monster or a vampire here. This is the first time that I had a role of  a Kontribida and I am happy because it feels me comfortable also. I learned also from the character of Kael. I am carefully thinking with my friends on how to act as an Kael here the son of vampires leader and I had lots of fun doing it. He said.
On how he prepares for his role, Arron relayed, "Of I course I prepared it, This is the big break of the ABS_CBN. And I do watch movies and read articles about kontrabida in Hollywoodso in that way I can practice how to deliver my role and make it more reality.
Now that it seems he can play a villain well, would he want to pursue this as a career route? "Why not? I enjoyed as being Kontrabida and I had fun of it. he said.
The actor clarified though that he's open to trying new characters in the near future to grow more as an actor. "I don't want also to stick in one. I just want to explore many things and characters. So if I had the chance or the opportunity I will get it and I do my job well.
Pag comment kau dito sa Baba
comments