VICE GANDA CONFIRMS ANNE CURTIS APOLOGIZED TO MAJA SALVADOR…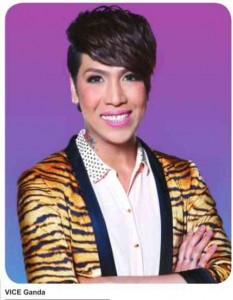 The Buzz yesterday's interview with Vice Ganda  regarding the issue of his friend and fellow It's Showtime host Anne Curtis.
The issue started in an episode of the noontime show where Anne had a punch line to Vice Ganda as "Maja-rot" in abundance of controversies involving by Maja Salvador and Kim Chiu her former best friend.
Vice explained in an interview in The Buzz, that Anne nominal aware of the issue regarding  Maja and Kim and she did not meant to offend Maja. Vice friend's defense.
The next day episode of that program Anne gave public apology for his joke as with Maja
Vice yield, because joke made ​​by the actress Anne has received the criticism via her Twitter account and some other personal attack with Anne. Even Vice ever apologize to those who would otherwise offended by the joke.
Further confirmation of Vice, that Anne personally made a text to maja to an apology about what happen.
Also been asked to Vice if Maja answered. But Vice don't know if Maja made a responsed to Anne's apology.
Furthermore Vice cleared that Anne and Maja would not be enemie and can fixed this things. Vice also loves Maja indeed. That's why he let Maja guest his show Gandang Gabi Vice.
Pag comment kau dito sa Baba
comments